31 Mar

DoubleTree Hotel – Westborough, Massachusetts

I'm really excited to kick off the 2016 season this weekend!  And to add to that excitement is the rare opportunity to film at a new venue! The DoubleTree Hotel in Westborough, MA says it's 'warm yet modern spaces are ideal for everything from birthday and retirement parties to family reunions and athletic banquets'.  This will work out perfectly then for Jared's Bar Mitzvah this Saturday!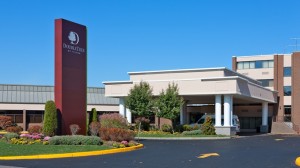 Their website claims that each guest receives a freshly baked chocolate chip cookie upon arrival, but somehow I'm thinking this perk might be limited to HOTEL guests and not event guests (I will certainly let you know if I'm handed a cookie upon entering – it's a long shot but I'm happy and willing to be surprised).
Pictures posted on the hotel's website are most impressive.  I am imagining the grown-up's will find themselves in the bar area shown below during the 'cocktail hour' and have a meal presentation that resembles what is shown in their banquet room.  The kids' buffet meanwhile I'm sure will most likely be more of the chicken fingers/pizza/macaroni and cheese variety (which is probably more up my alley anyway).
Regardless, I'm sure the room will be decorated to the fullest and I can't wait to see how Jared has themed his party!  So stay tuned for a full report and pictures from this Saturday's event, and welcome 2016!
– Jamie