24 Feb

First underwater wedding at Georgia Aquarium

ATLANTA — It was gray and cloudy today with wisps of rain that would likely ruin your typical wedding – except maybe this one.

Deep inside a 6.3 million gallon tank at the Georgia Aquarium, two love birds took the plunge – quite literally.

The special event happened on Sunday in the Ocean Voyager tank built by Home Depot at the local aquarium where these newlyweds made a commitment almost as large as the whale sharks that surrounded them. That last part wasn't just a pun – the tank housed the largest species of shark currently in existence.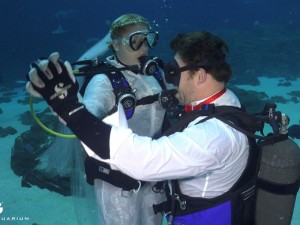 Aquarium officials said the couple, both avid divers, chose the Georgia Aquarium as the location for their unique wedding ceremony after visiting the aquarium and discovering that guests can dive with whale sharks and manta rays.
"We never thought we would get married in an aquarium, but it mixes our love for diving and for one another, it's something we love doing together," said Crystal Reynolds about why they chose to get married underwater.
But the vows weren't the only part of this special moment that occurred under the waves.
The two also shared their first dance underwater before returning to dry land.
There, Mr. and Mrs. Reynolds met with family, friends and aquarium guests in the atrium before attending a private reception in a nearby ballroom – this one above "sea-level".