07 Apr

Wedding Video Dos and Don'ts

As we head into the 2018 wedding season, I wanted to share a great article published by The Knot because it brings a very helpful perspective as to how couples should approach their wedding video. There are many choices to make and options available, but what's the best way to go? I'm happy to say The Knot got it right!

First and foremost, they encourage those on the fence to ABSOLUTELY hire a videographer (otherwise, I'm probably not posting this). And the rest? Here are some of their helpful hints:

Don't Include: A Photomontage

While it's fun to look at baby pictures and honeymoon snapshots, The Knot reminds couples to devote a videographer's time toward editing footage from the wedding day.

Do Include: A Digital File

While DVDs are still a popular method for delivering wedding videos, most videographers (VideobyJamie included) are now offering digital movie files in HD on flash drives as well.

Do Include: The Ceremony

Couples should want footage of the entire ceremony, from the start of the processional to the final exit, and especially the important words (and tears and laughs) shared in between. VideobyJamie offers all the raw footage at no extra charge!

Don't Include: Guest Interviews

Guests tend to say the same exact things in video messages. Plus, it can be annoying for the guest who's interrupted in the middle of eating a salad and encouraged to say a few words about the happy couple as the rest of the table looks on.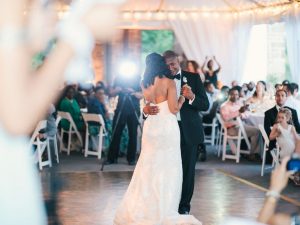 Do Include: The Reception
When you're being pulled in a million different directions, the day will go by in a blur, and you'll miss the little moments that will help make the day so special.
Do Include: A Highlight Reel
This is what you'll show to the friends and family who you know won't want to sit through all of your ceremony readings. That's why our main feature video is standard at 15-20 minutes. It's your whole day in a easily watchable length and format.
Do Include: A Second Shooter
There's no doubt about it: Two cameras are better than one. The ability to cut back and forth makes for a more engaging film overall.  For a small add-on cost, a 2nd videographer can be added to any of our packages. For those who may not be able to afford this option, not to worry – a 2nd stationary camera is always setup and running throughout your ceremony at no extra charge.
For more details about these great suggestions, be sure to read the full article by visiting The Knot!
– Jamie
https://www.theknot.com/content/dos-and-donts-of-wedding-video-packages